My, my, my...it's been a while since I've posted a Thankful Thursday (feel free to participate by clicking on the button!). Thursday's are usually the busiest days of the work week- deadlines galore in the writing world and lots of paperwork to file away [that's my life!] but the upside is that it usually goes by fast! Today I just wanted to recognize how thankful I am for
FAMILY!
None of us can choose them like we choose friends, and although everyone can claim some dysfunctional members or habits-- there is still nothing like the love, support, and encouragement from family. Whether far or near, today I'm thankful for those I share blood with. Thank God for my beautiful ohana! (The one thing I learned from watching Lilo & Stitch!)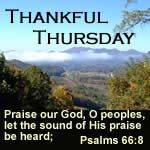 On a recent trip to Virginia, we spent a weekend with my cousins and had a hilarious time playing the
Just Dance
video game from Wii with some family friends. For your enjoyment pleasure, here is just one highlight (b/c Blogger video sux!) This is what teenage boys do when they think no-one is looking! lol
PS- The game is really as fun as it looks, and you can get your workout in as well!
Fun weekends!